Oct. 26,2019
October 24, 2019
It's time to buy your tickets to the school's 70th jubiilee celebration VYNO VAKARONE – a wine-tasting, music-filled event on Nov. 16th. Our enthusiastic organizing committee, headed by Indre and Lina promise a fun-filled unique way to commemorate this special birthday of the school.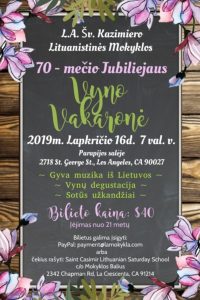 Other events:
bring decorated pumpkins this Saturday.  Kiskiai-3 gr. ar permitted to wear Halloween costumes
11/2 meet in Forest Lawn 9:00 a.m. to visit Lithuanian gravesites. Returning to class at 9:50.
11/9 Child Safety classes for students. You should have signed a permission slip at registration
11/16 Festive wine-tasting party VYNO VAKARONE
11/23 Flea market for charity. Bring used toys and women's accessories to be sold . Give your children money to buy what others bring !
11/30 Thanksgiving weekend – no classes
12/21 Christmas program EGLUTE 12 pm.
KISKIAI class is now enrolling children from 3 yrs. of age. All instruction is in Lithuanian.
ADULT LANGUAGE CLASS needs new students. Please consider auditing a class.